Aqua-Soft Mobile 2 for Invision Board 3.1
Price:
$20 usd
for just the Mobile Skin or
$25 usd
for ALL Skins.
Live Demo:
http://www.aqua-soft.org/forum/
You must be on a Mobile device to see the skin.
Screenshots: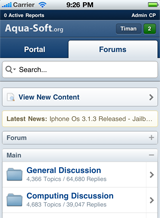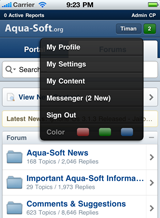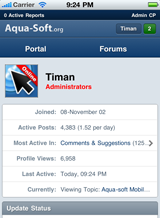 New Features:
- Completely new skin, started from 3.1 default skin
- Report Center & Moderation tools
- Calendar support
- Menus, Collapsable forums and javascript support
- Support for bigger screen size devices such as iPhone4 and iPad
- Expanded search (tap the magnifying glass to view search options)
- Color changer
- Tons of other misc fixes/tweaks
What do you get?
The skin of course, as well as future updated versions. You also get support for the skin. Things like help modifying templates to fit your site (to a certain amount), help installing it, fix bugs or anything like that.
To purchase the skin you must first be a registered user if you are not already. Then click the link below.
Purchase the Aqua-Soft Mobile 2 Skin
Please report any bugs you find or suggestions in this forum below.
http://www.aqua-soft...kin-discussion/